Way too beautiful to see snow-capped Golden Pavilion
It was snowing last Friday in Kyoto. It's been a while since I saw that last time here. And there is much more snow around Tokyo as well.
I went to the Golden Pavilion(Rokuonji-temple aka Kinkakuji-temple) where I've been wanted to go in snow.
No matter when we have snow in Kyoto, we have news "The Golden Pavilion is covered with snow today".
But I've never been there when it snows because it's rare to see snow in Kyoto.
Even though it snows, it doesn't stay on the ground.
Finally it's snowing, but unfortunately it's weekday.
Somehow I finished working earlier and arrived barely in time before the gate was closed.
Although I had 1hour left until it was closed, it was still crowded to see and take photos of snow-capped Golden Pavilion.
Taking photos of a typical sightseeing spots sounds very mundane but I like it.
The Golden Pavilion
According to Wikipedia,
Kinkaku-ji("Temple of the Golden Pavilion"), officially named Rokuon-ji ("Deer Garden Temple"), is a Zen Buddhist temple in Kyoto, Japan.

The site of Kinkaku-ji was originally a villa called Kitayama-dai, belonging to a powerful statesman, Saionji Kintsune. Kinkaku-ji's history dates to 1397, when the villa was purchased from the Saionji family by Shogun Ashikaga Yoshimitsu, and transformed into the Kinkaku-ji complex.

When Yoshimitsu died, the building was converted into a Zen temple by his son, according to his wishes.
The Golden Pavilion is known for Yoshimitsu's temple, but I didn't know it had been the Saionji family's land before Yoshimitsu built.
Check the webcam
You might think "I'm not sure that I could go there when it's snowing" or "It's so far to go to Kyoto that I can't go there".
Don't worry. It's 2014. As long as you have the internet, you can check what's going on at the Golden Pavilion wherever you are. The Golden Pavilion has their webcam and it keeps to upload photos every 3 minutes.
When you hear that it's snowing in Kyoto, this webcam might help you.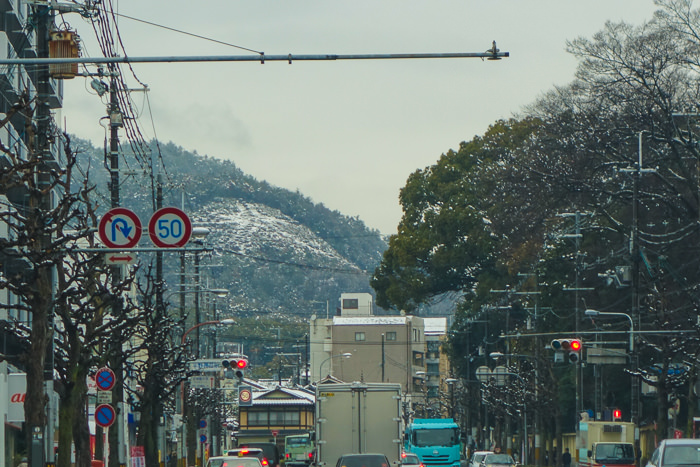 The snow-capped the Daimonji mountain. You can rarely see snow on it.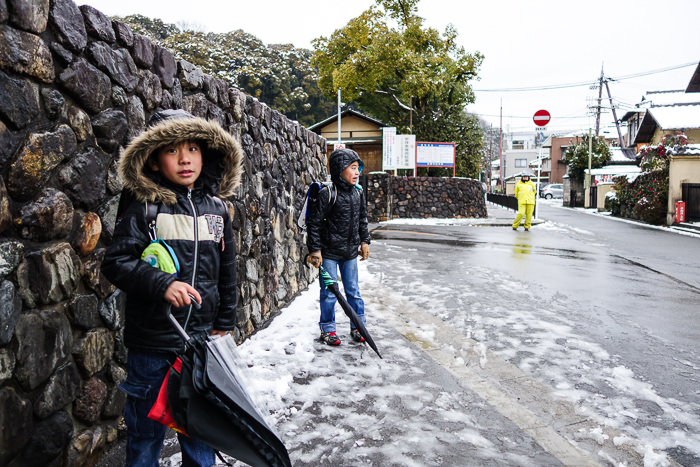 Kids are playing in snow. This reminds me of my childhood memories.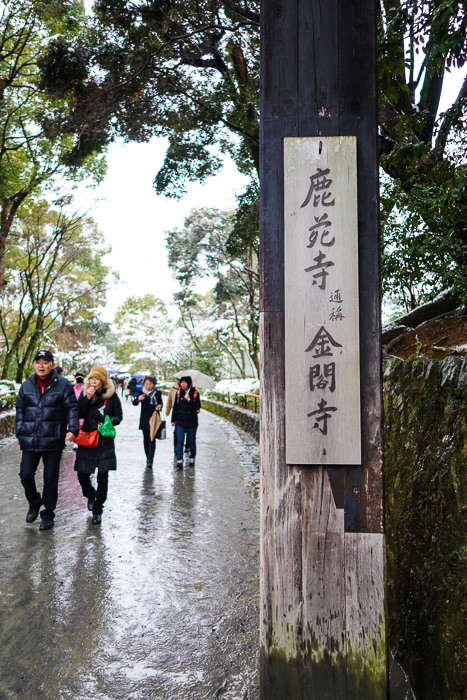 Arrival.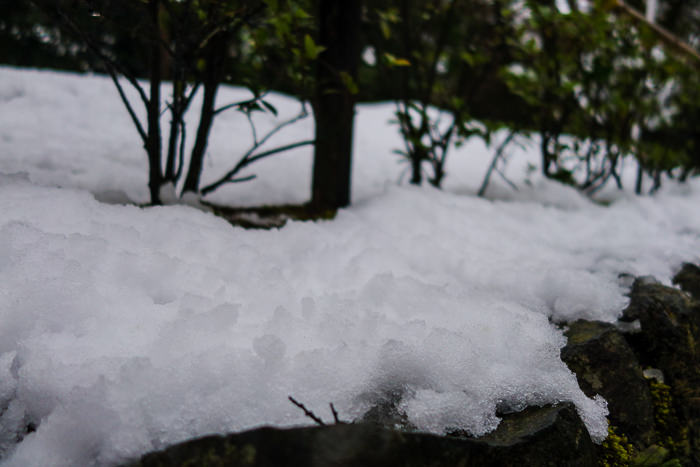 About 5cm.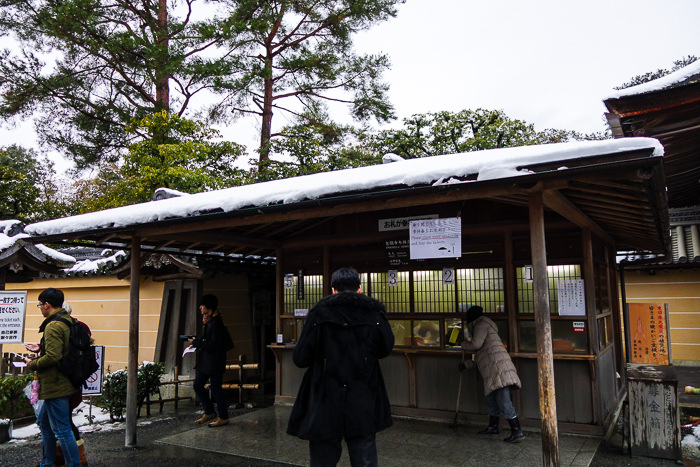 400 yen entrance fee for adults.
It's worth the 400 Yen to be able to see the snow-capped Golden Pavilion.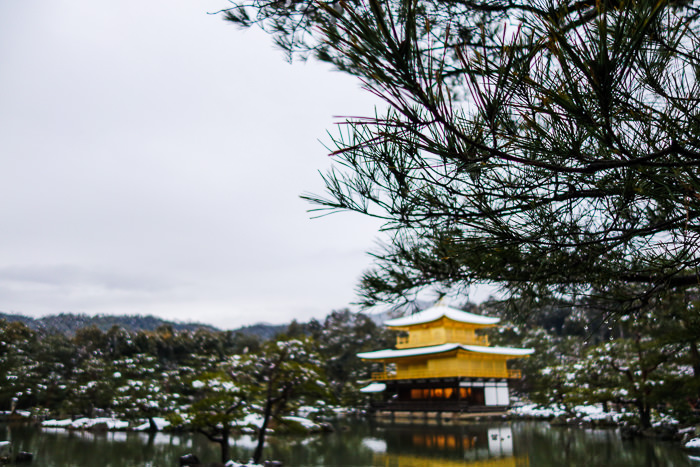 Taking a peek.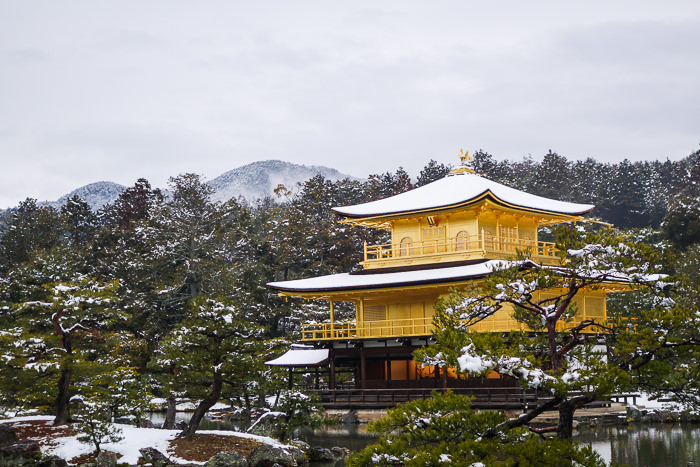 How beautiful it is.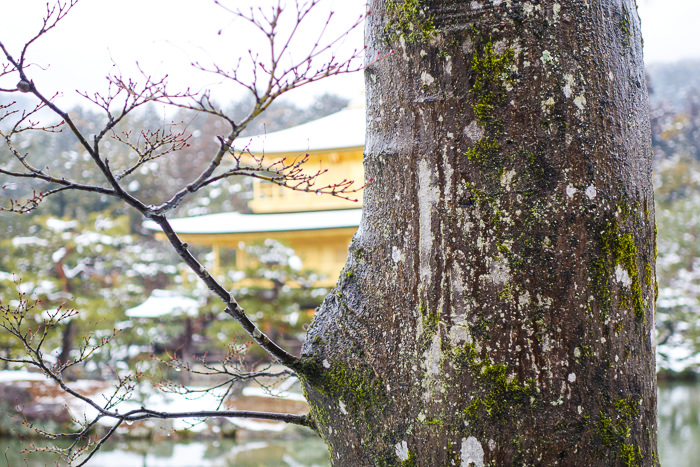 I'm wondering what kind of flower is going to bloom.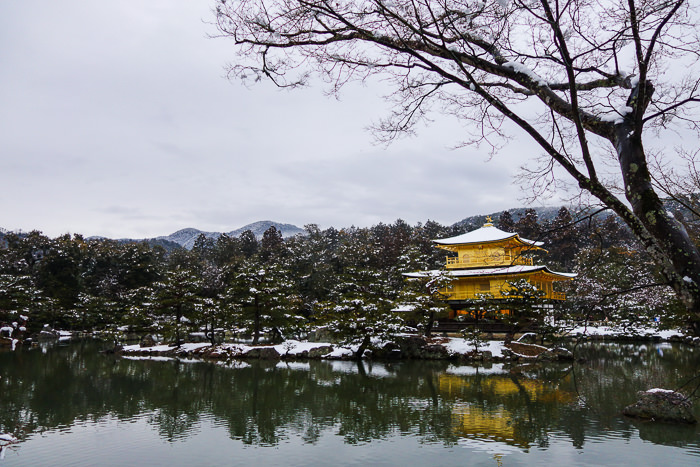 "Sakasa (upside down) Kinkaku" – the reflection of the Golden Pavilion on the water.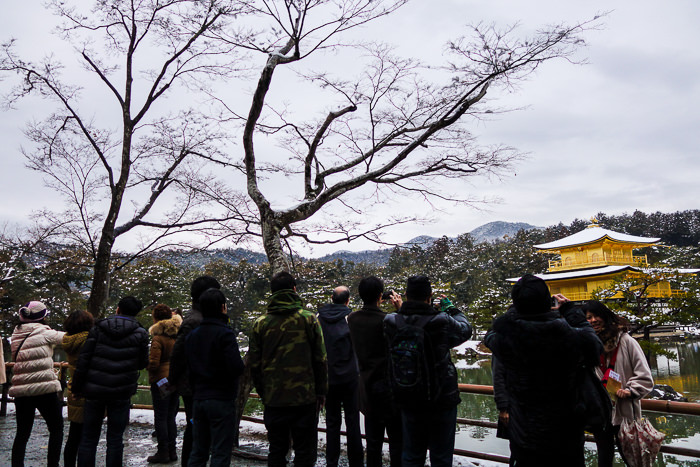 Paparazzi. Yes, I'm one of them. Everyone takes photos with a smile.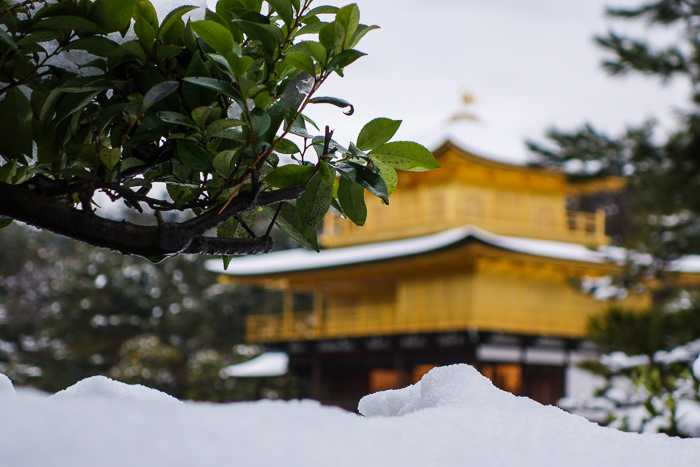 The Golden Pavilion is literally covered with snow.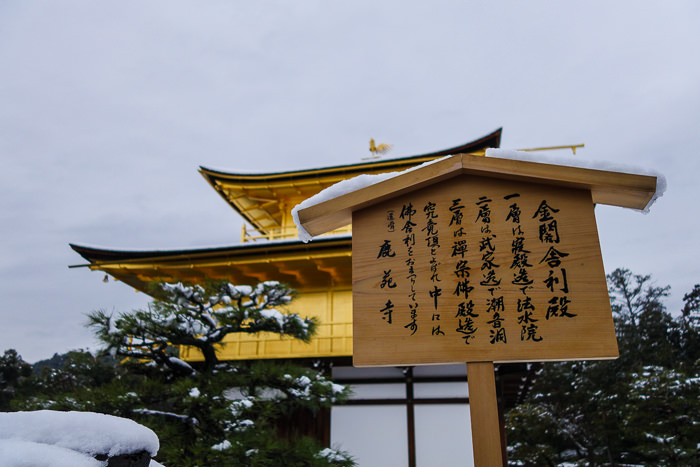 This is called "Kinkaku shariden".
Kinkaku refers "The Golden Pavilion" and "Shariden" means "housing relics of the Buddha".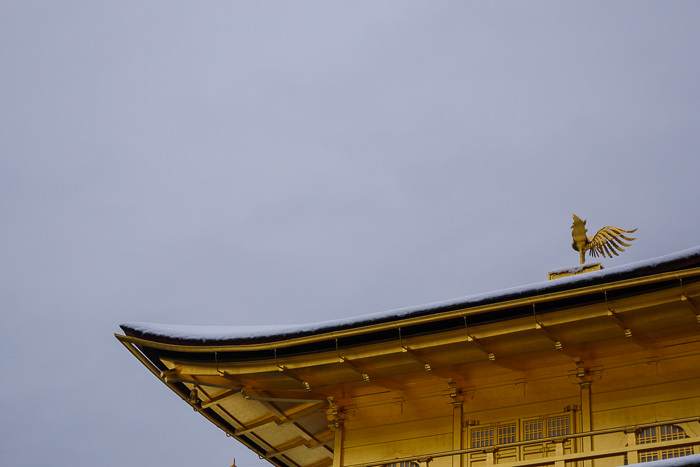 A phoenix as a roof ornament.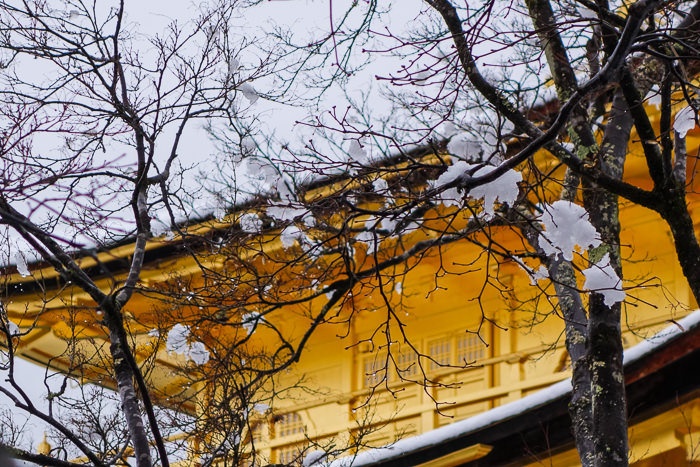 Snow is likely to fall any minute. I need to watch out.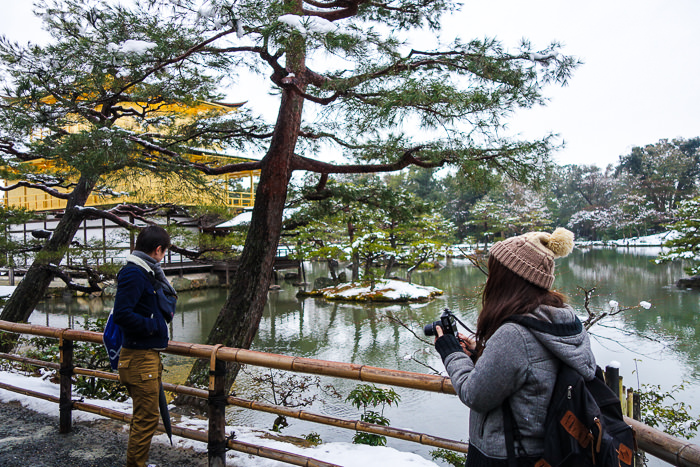 I feel there are more photographers than usual.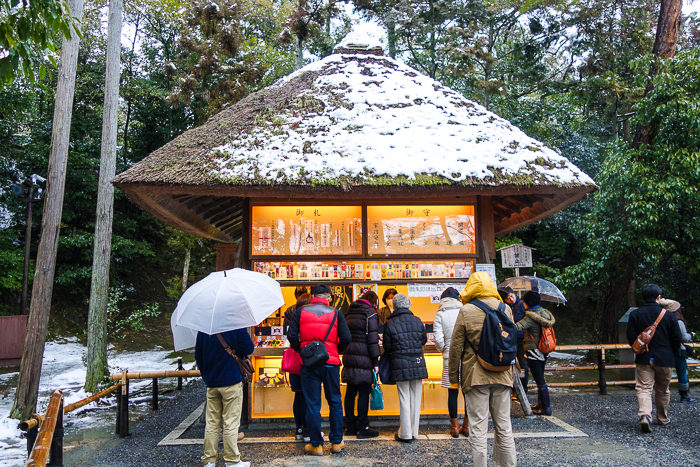 The store sells charms.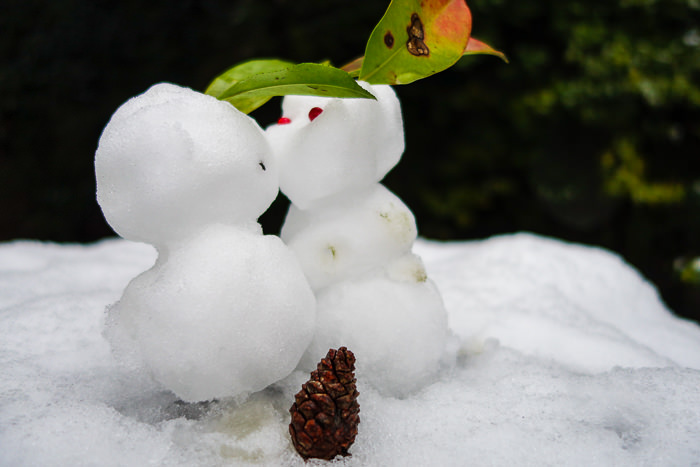 Adorable.
Somebody made it. Is should be mini-snowman, right?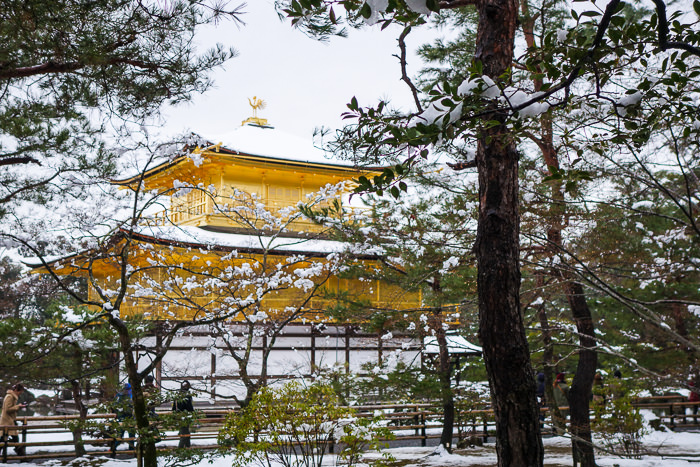 The view on the other side is also beautiful.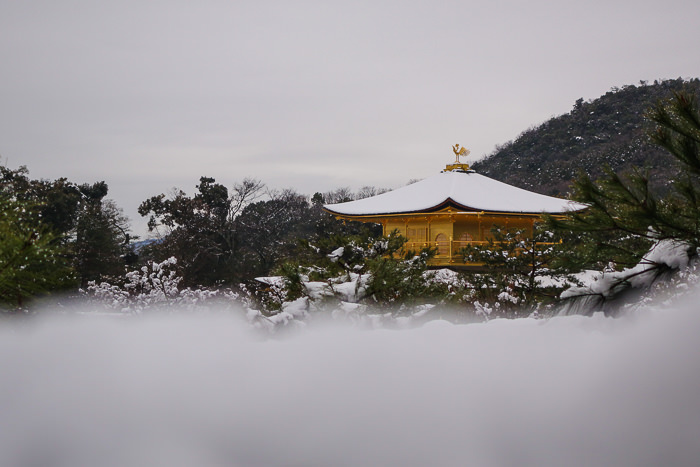 The Golden Pavilion taken from a distance.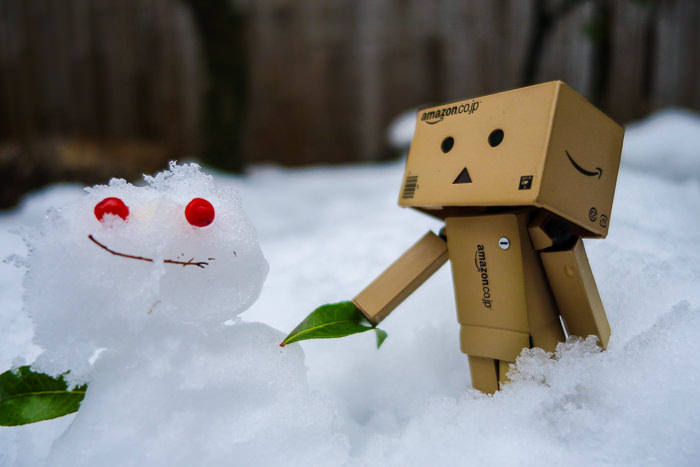 Mini-snowman again.
A girl brought a Danbo and I asked her if she didn't mind if I took a photo of him.
I really like his look.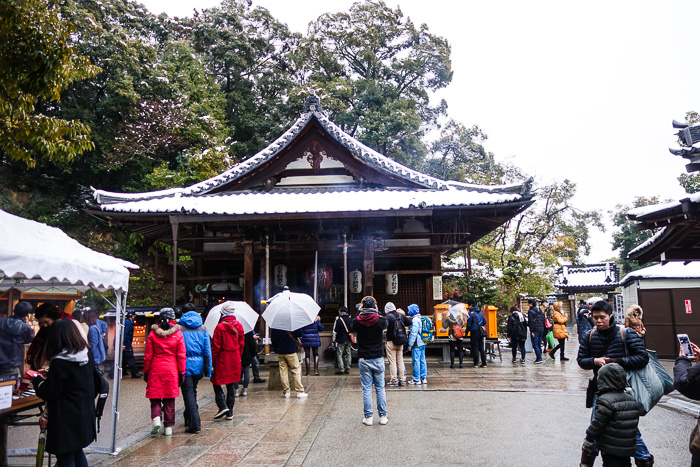 Fudodo shrine.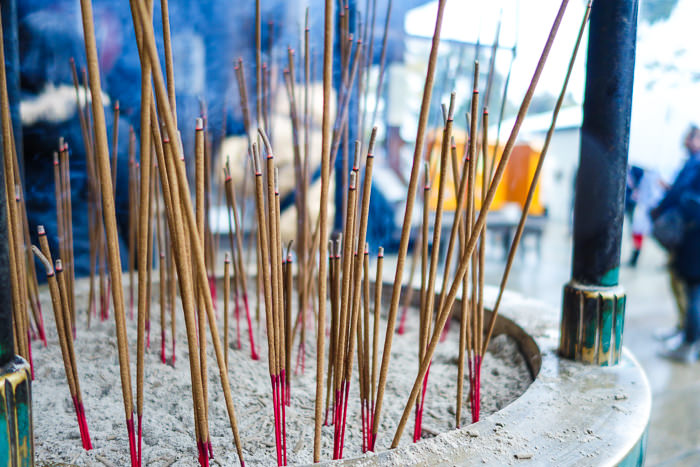 White smoke from incense sticks on a Buddhist altar.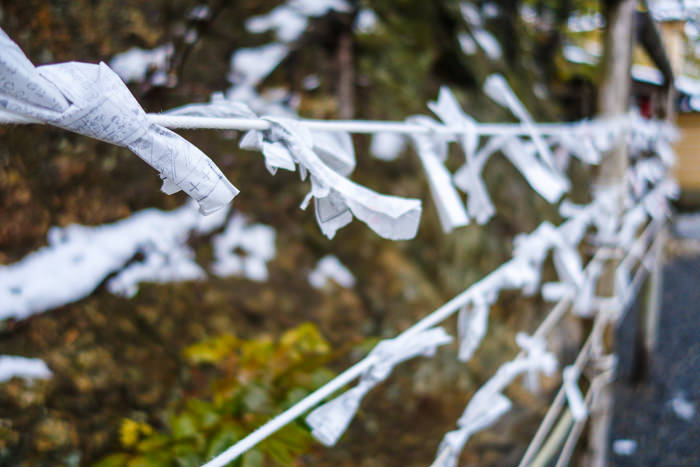 The fortunes.
I'm not still pretty sure if I should keep them or tie them to wires.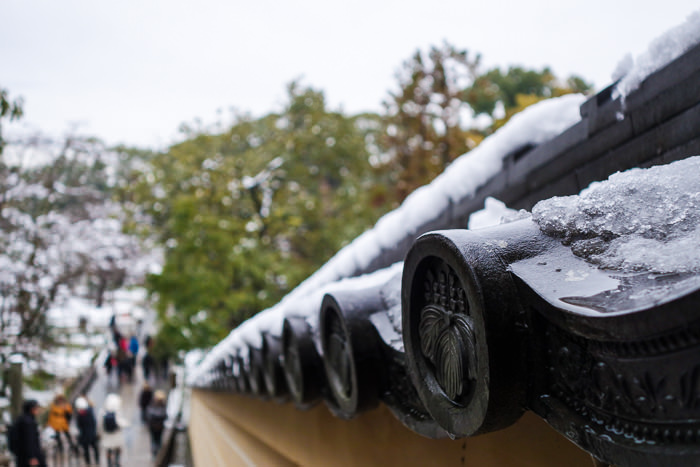 "Five & seven paulownia pattern" is engraved on roofing tiles.
This emblem is included on 500 yen coin in Japan.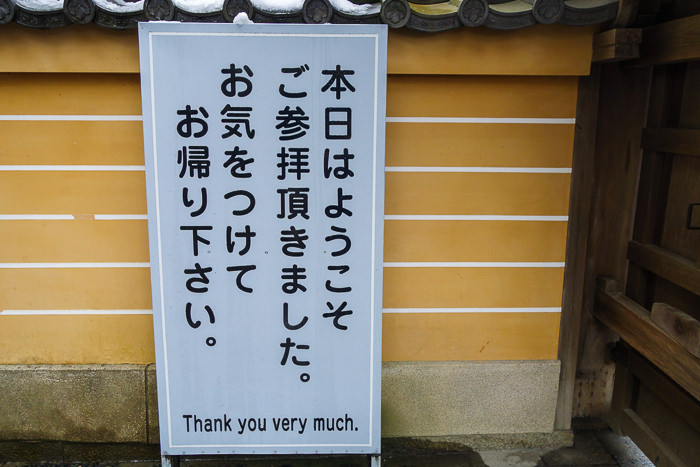 You are very welcome!
I'm really glad to be here in snow.
How do you like it?