Beautiful plum blossoms in full bloom at Kitano tenmangu shrine, Kyoto
Do you know where you should go when you come to Kyoto in a bit early spring before cherry blossoms bloom?
Of course, there are so many places to feel what Japanese spring is when cherry blossoms bloom. But what if you come here before that? Let's say it's between the end of February and March.
Kitano tenmangu shrine is the right place to go for you.
This shrine is very very very famous for plum trees. 50 kinds of them are planted and in total you can see about 1500 plum trees.
Kitano tenmangu shrine has its plum orchard which costs 600 yen to enter. It's included a set of plum tea and snack(rice crackers). They taste pretty good. I really like drinking tea with a snack while I watch beautiful plum trees.
About Kitano tenmangu shrine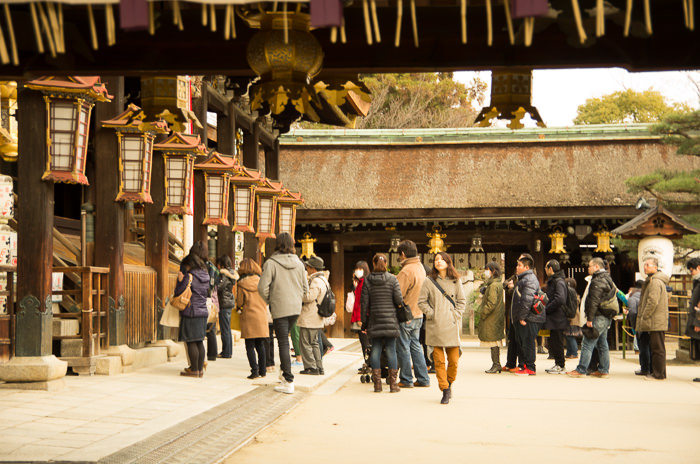 Kitano tenmangu shrine's website says
This shrine enshrines Michizane Sugawara ,is famous for his great learning during his lifetime is worshiped as the patron of learning.
The most popular shrine for students praying for success in exams, should be Dazaifu shrine in Japan. But for people in Kyoto, that is Kitano tenmangu shrine.
Kitano tenmangu shrine is popular with students praying for success in exams because the deity was in his life a man of literature and knowledge.
Actually I've been to this shrine right before the very important exams.
And there are many small wooden plaques called "Ema" around. Ema is something on which Shinto worshipers write their wishes such as "I really hope I could pass the exam".
Plums and Michizane Sugawara
As I mentioned that this shrine enshrined Michizane Sugawara. He had an exceptional talent in poetry both for Chinese poetry and Japanese poetry. Once he wrote a poem which is "When the east wind blows, flourish in full bloom, you, plum blossoms! Even though you lose your master, don't be oblivious to spring", plums became a symbol of Michizane Sugawara and this shrine.
Symbol of strength and happiness
Our iPad bag is used a plum tree for its design. That's because a plum tree is a symbol of happiness in Japan.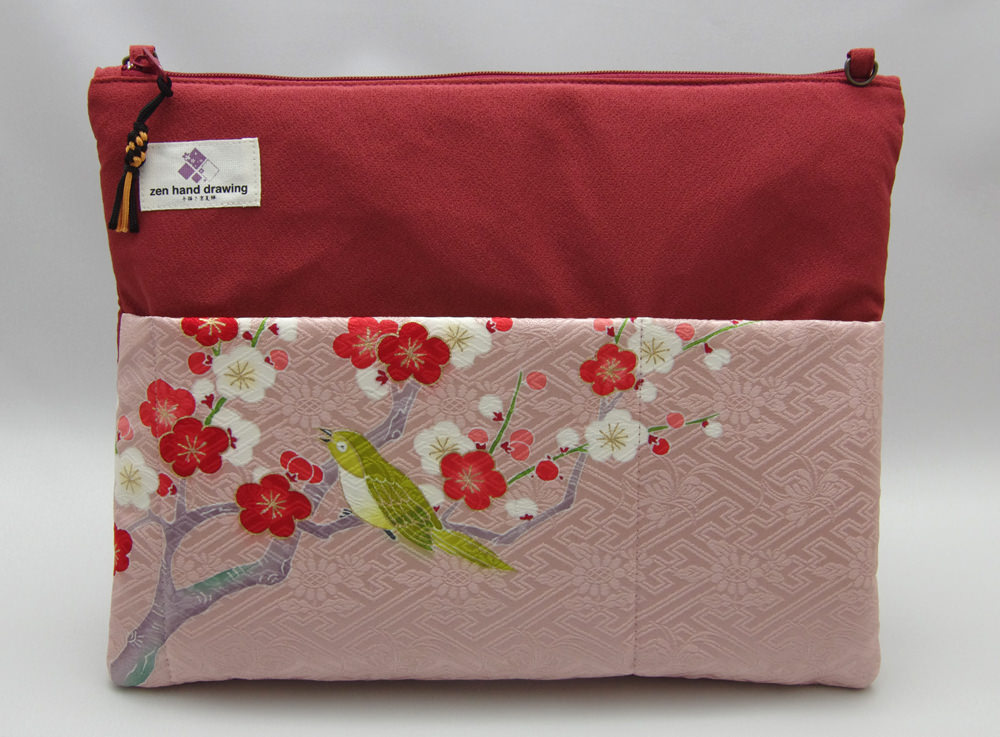 "Plum" in Japanese culture(maybe in Asian culture) is a symbol of strength and happiness. That's because plums always endure hardship since it blooms during the cold winter.
Therefore, we use the symbol for anything when we celebrate something or someone, especially weddings or a coming-of-age celebration.
The plum orchard is open
The plum orchard is open between February 8th and the end of March in this year.
March is the best time to see plum blossoms in full bloom.
It has not only plain plum trees but also ones you merely see.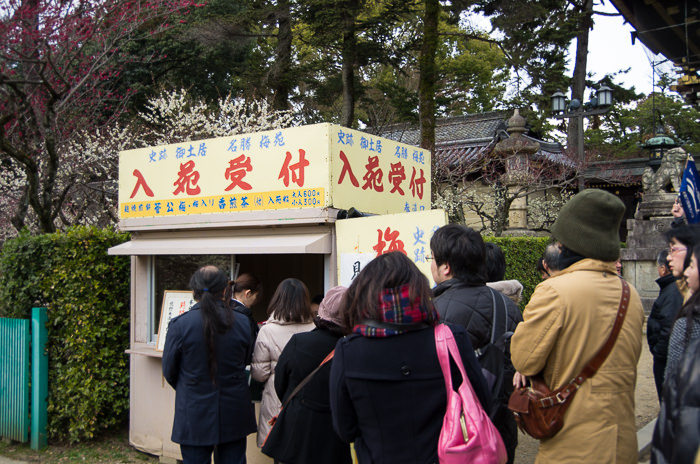 Entry: 600 yen(Adults), 300 yen(Kids)
I came here around 3pm. It was still packed.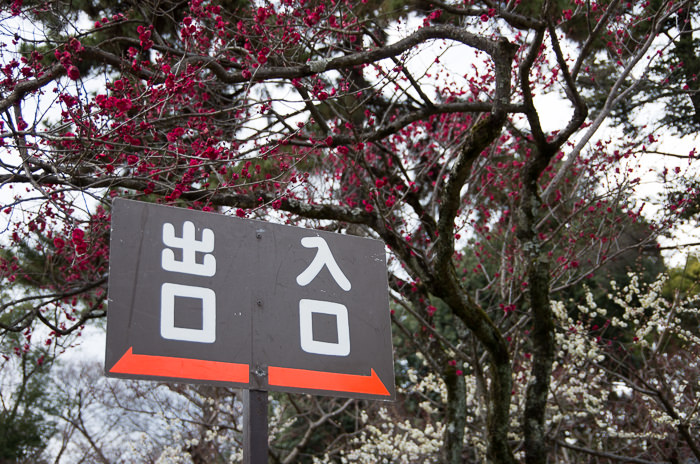 Red plum blossoms.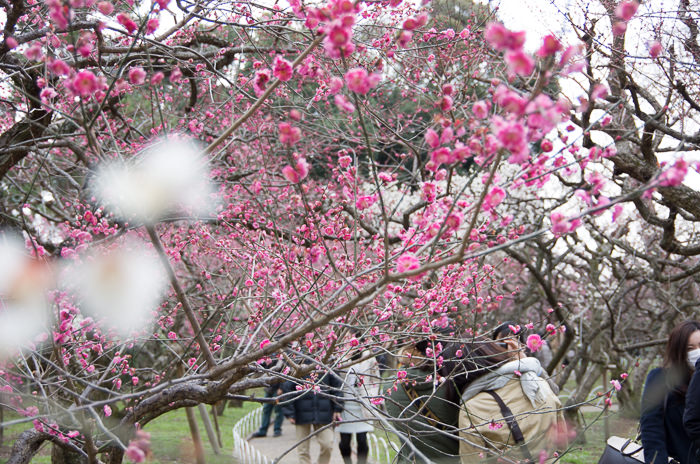 I'm surrounded by plum trees.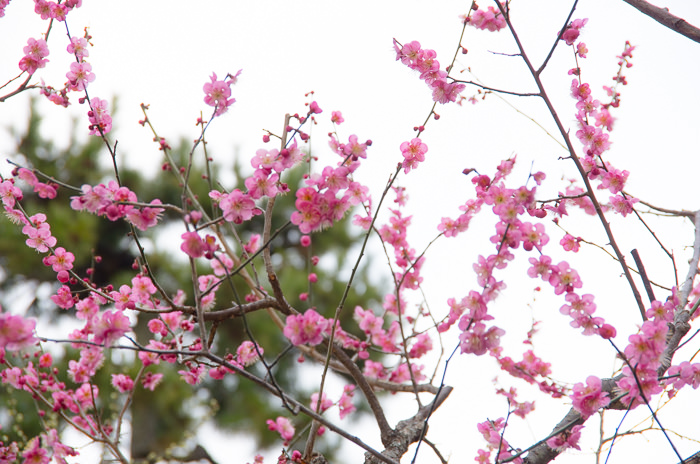 The green tree behind is a pine tree. I would be much nicer if I could see any bamboo too. In Japan, pine trees/bamboo/plum trees symbolize something happy. Check out more detail here.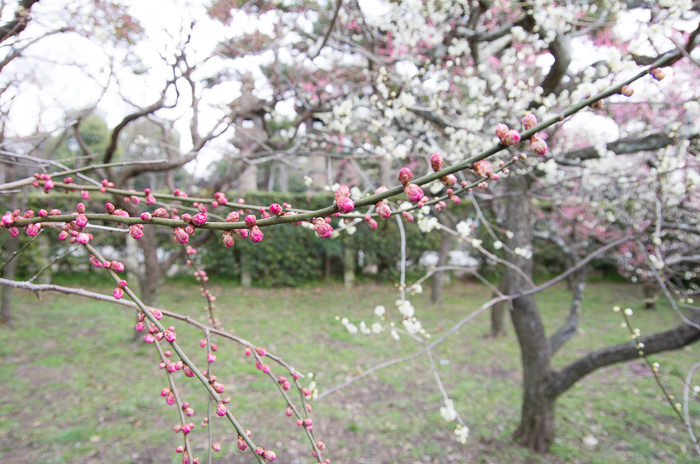 White and red plum blossoms.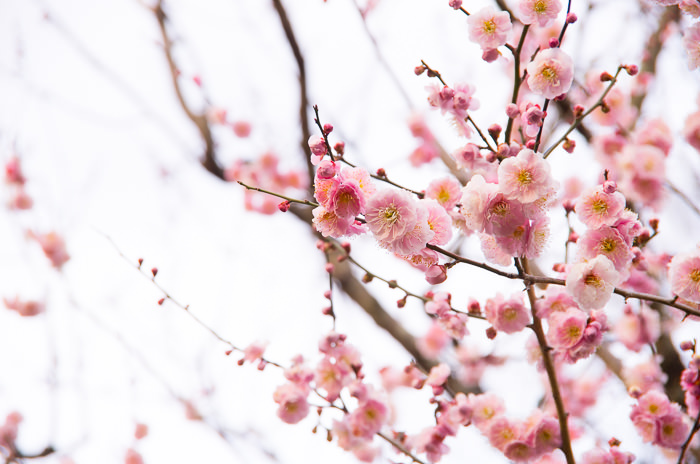 I personally think plums should be white and red, but there are a lot of pink ones around here.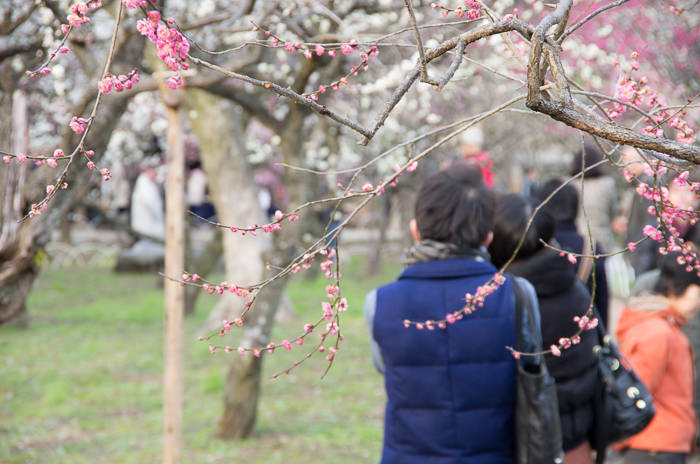 Taking photos of plum blossoms is very hard because a plum tree has many branches but it doesn't have a lot of blossoms.
That tends to look a bit sad when you take photos of whole plum trees.
So I tried to put someone in the photos or take them in the way of zooming.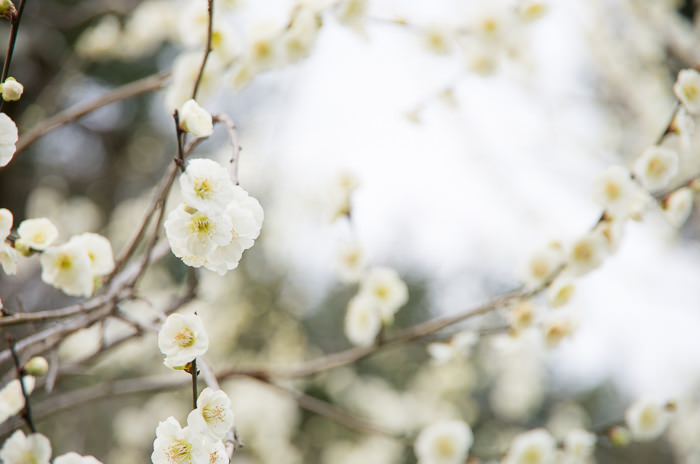 White plum blossoms are gorgeous as well.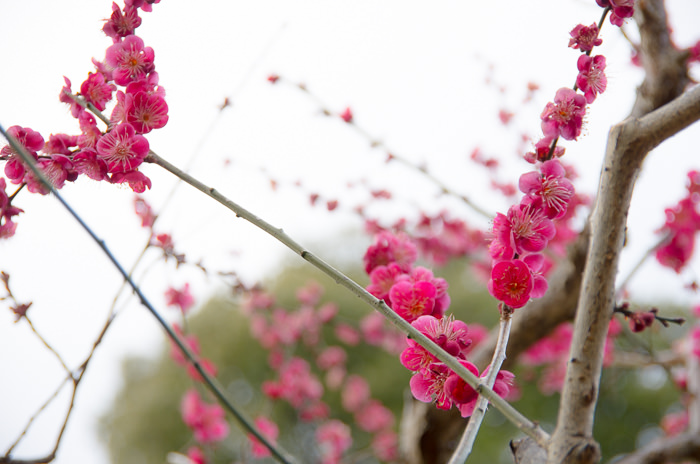 Kitano tenmangu shrine has many types of plum trees that I've never seen before.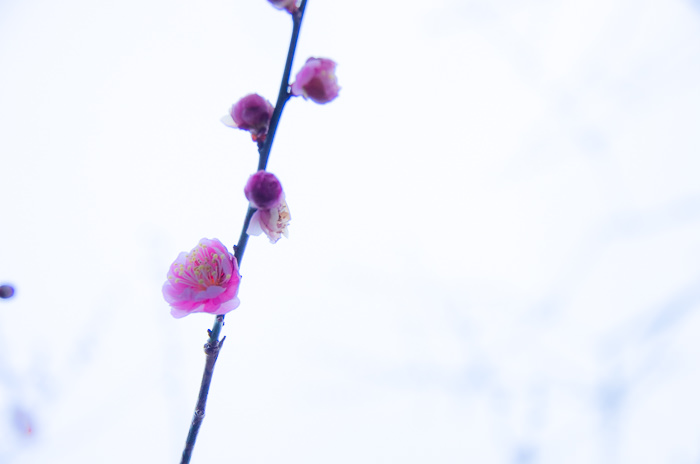 Light pink ones.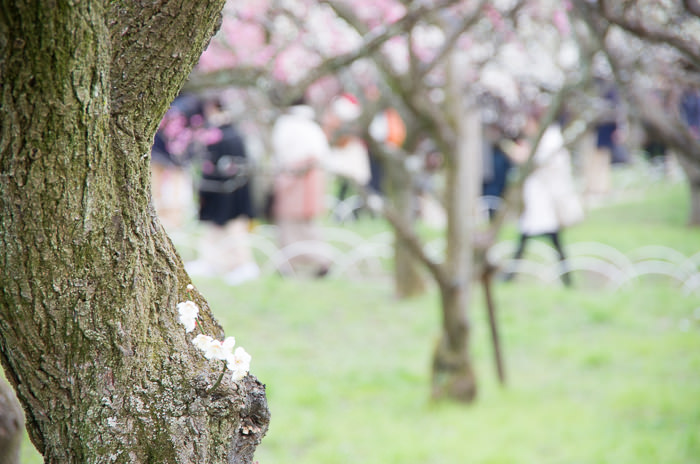 I didn't know a plum tree has flowers on its trunk.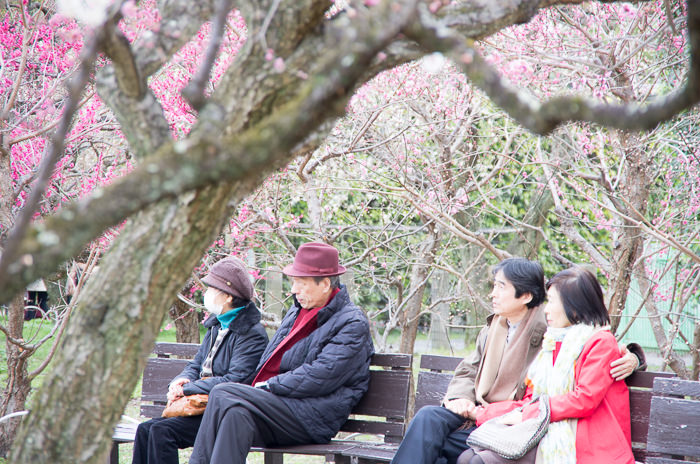 Everyone is smiling while they are watching those trees.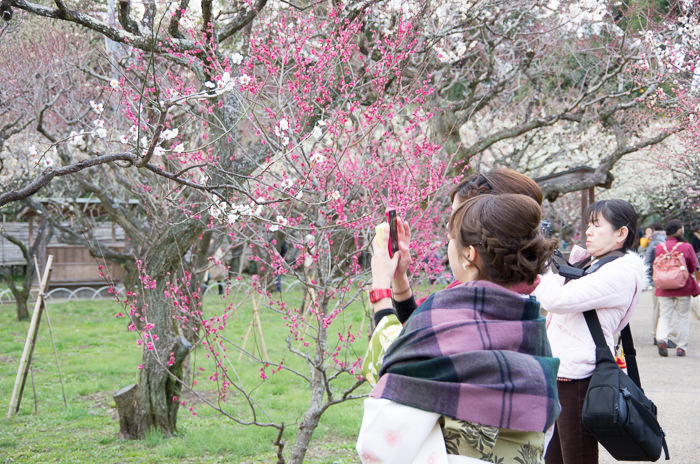 Kimono and plum blossoms in full bloom. Very Japanese. Nice.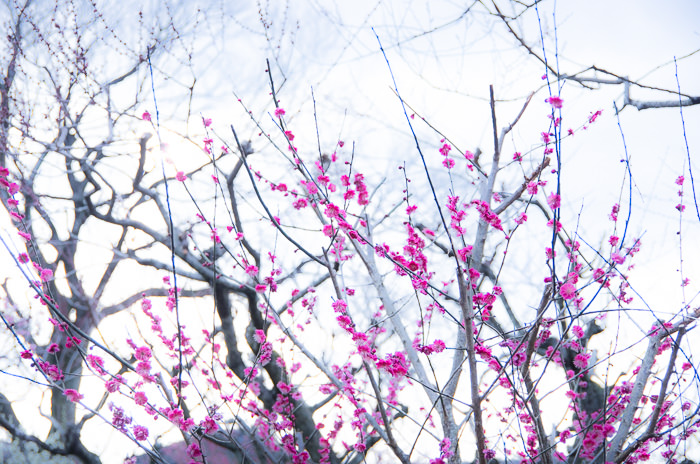 It grows straight towards the sky.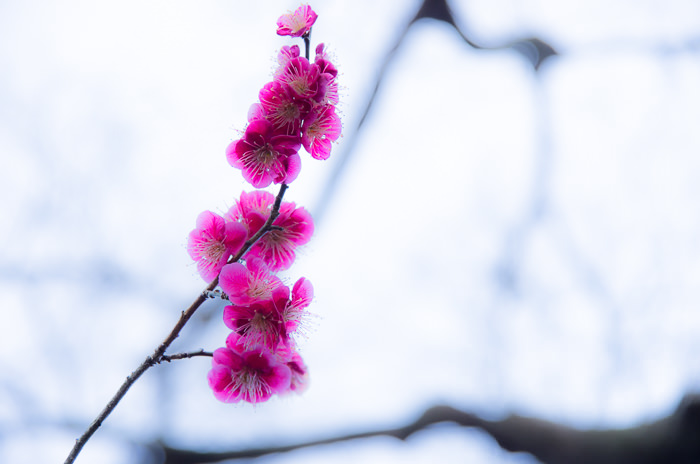 Beautiful.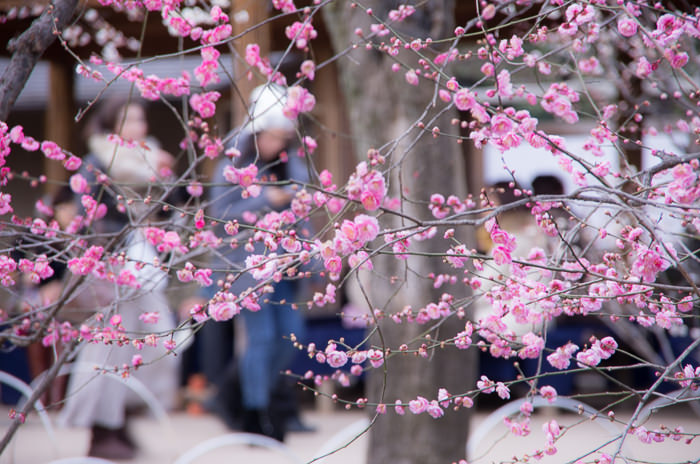 Taking a break.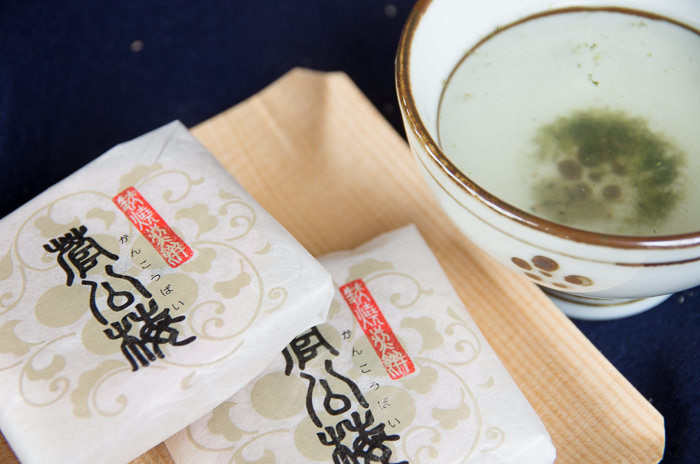 The entrance fee costs 600 yen included a rice cracker and a cup of tea. Although it's March, it's a bit cold. I feel relaxed and comfortable after I drunk the tasty tea.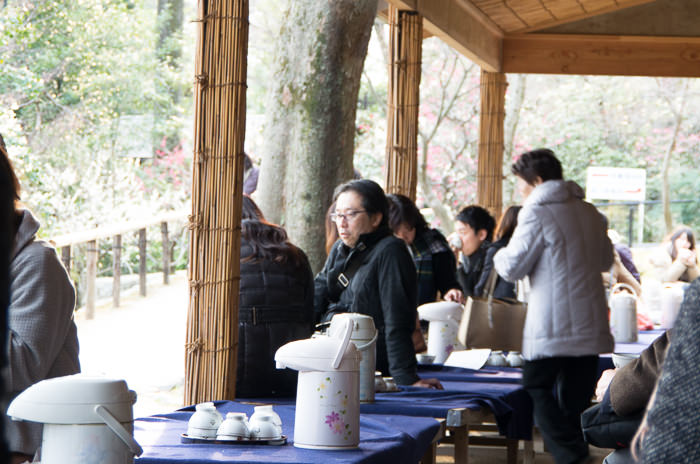 As I'm drinking a cup of tea, I'm watching full of plum trees.
It's well worth to spend 600 yen.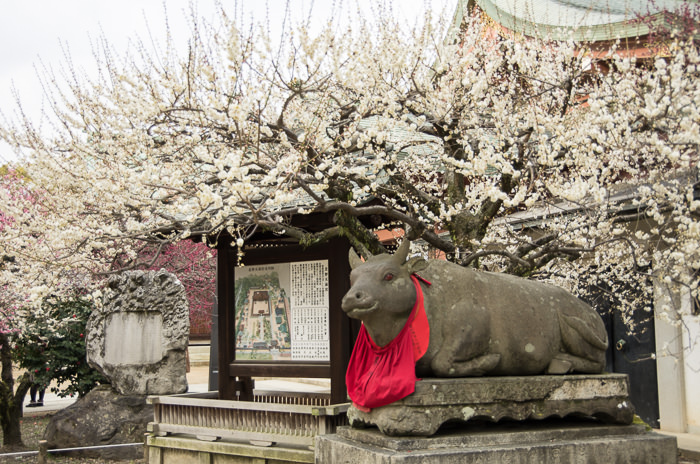 After I leave the plum orchard, I'm heading to the main shrine.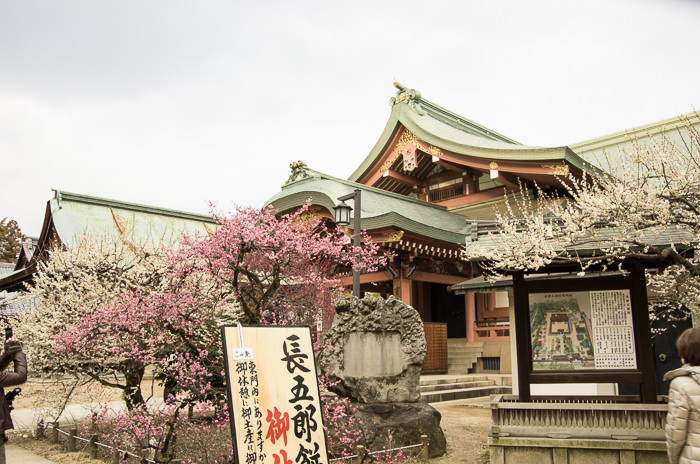 There are plum blossoms blooming beautifully on my way to the main shrine.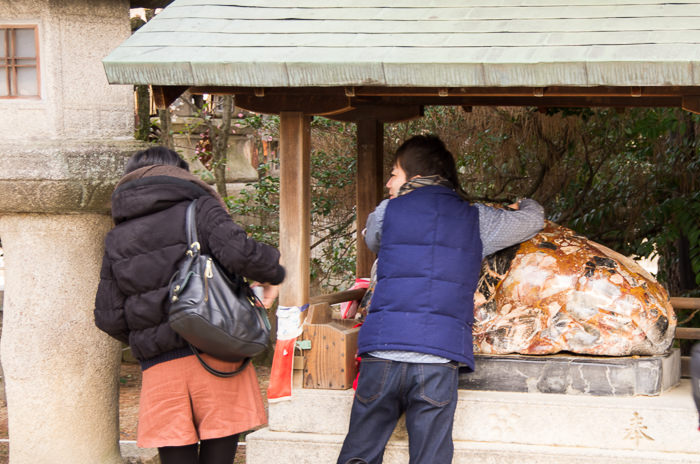 This is a statue of cow called stroking cow.
It's believed to help people recover from their diseases when they rub it on the same part as the sick part of their bodies. And if you rub his head, you might get smarter.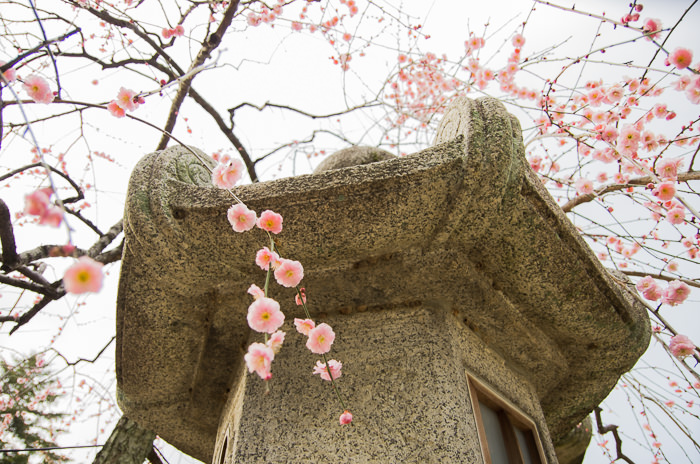 A stone lantern by a plum tree.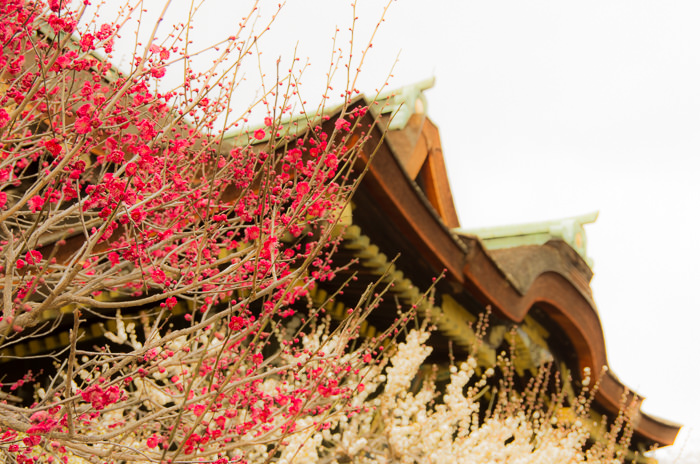 The red and white blossoms.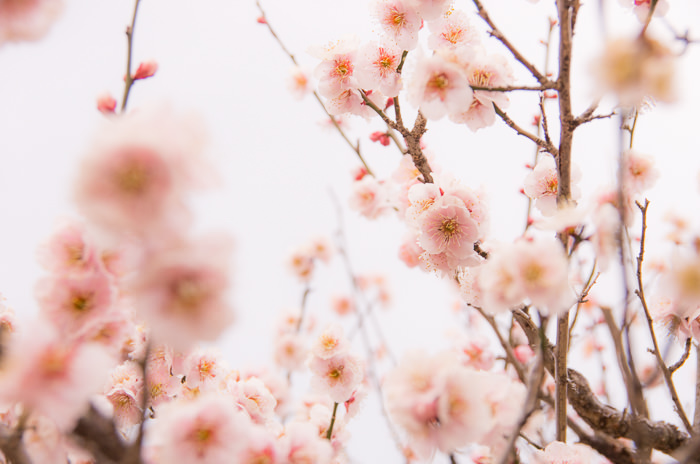 A bunch of light pink ones like cherry blossoms.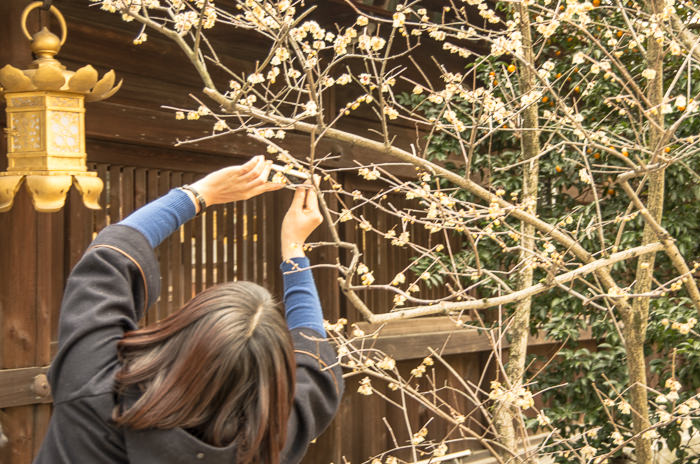 A lot of people are taking photos using their smartphones.
Although I tried to take closeup photos of these plum blossoms, I gave up because it was not able to focus.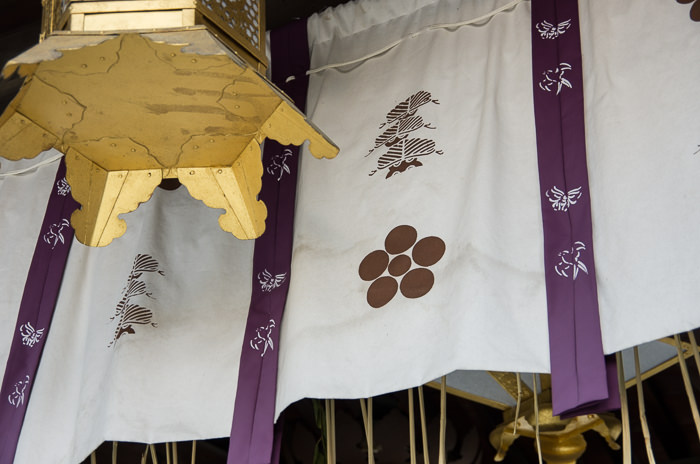 Illustrations of a plum blossom and a pine tree.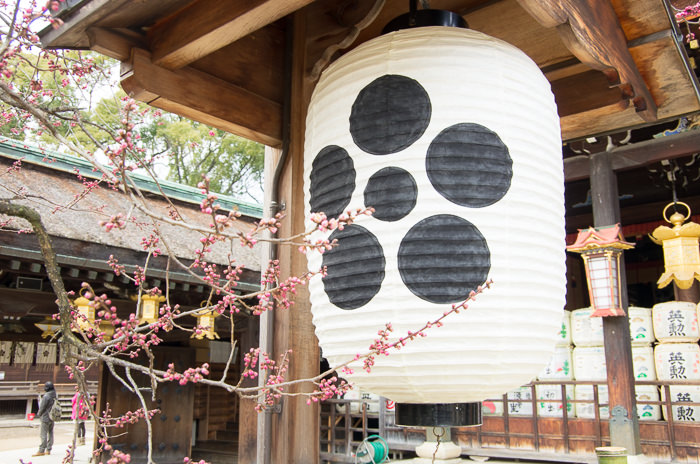 A plum tree by a lantern.


A pine tree next to the plum tree.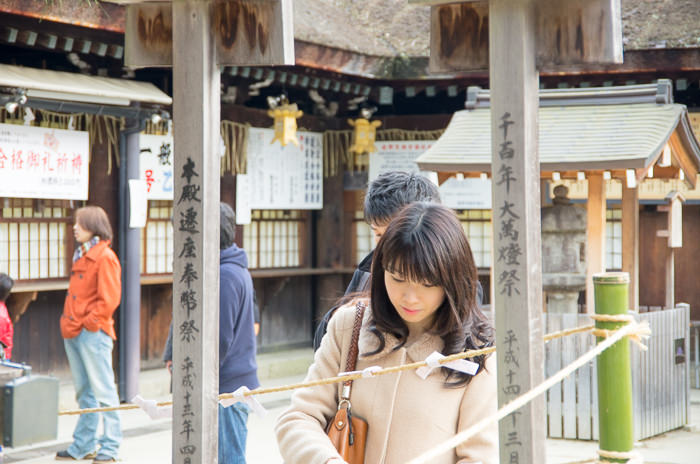 Fortuneslips.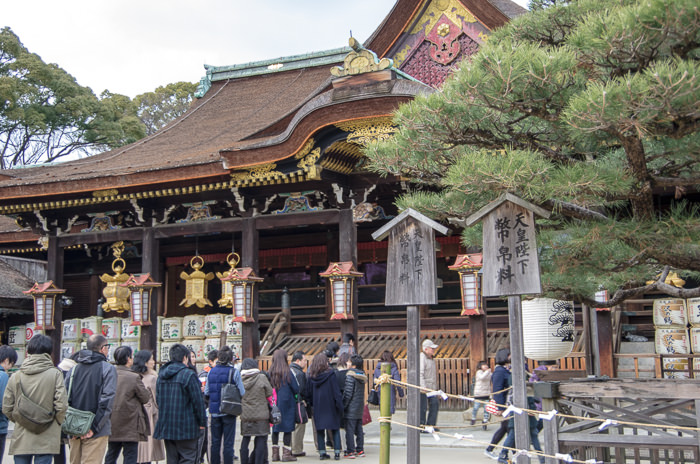 Prayers stand in a long line.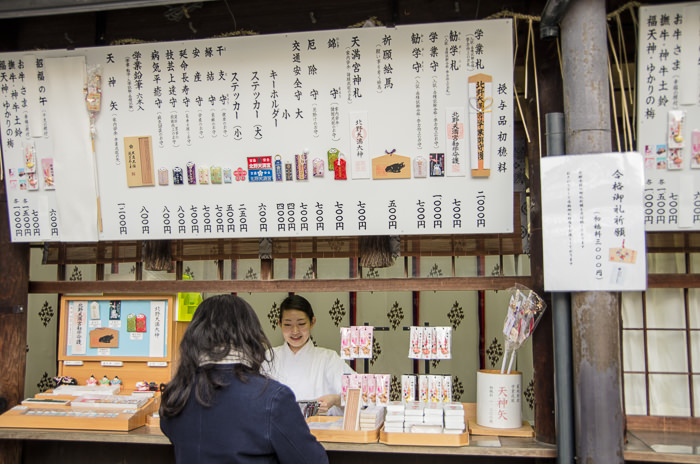 A store for charms.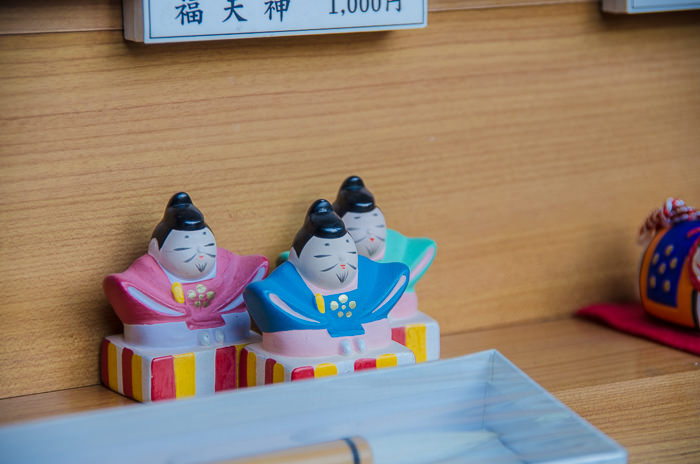 Is it supposed to be Michizane Sugawara, isn't it?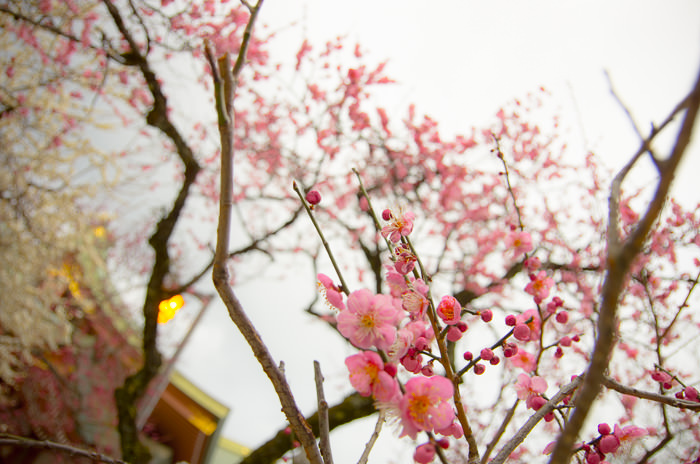 When I checked photos that I took when I got home, I realized that I tended to take photos of pink plum blossoms a lot. I'll take more red or white ones more next time.
And cherry blossoms will be blooming soon. I really like to take photos of flowers but I don't know about flower's name or detail. I feel like getting more knowledge of them more.