Having an exhibition booth at Kyoto Art Festa "artDive 2013"
artDive is a semiannual art festival at Miyako Messe by the Heian shrine in Kyoto.
Here is the detail on their website.
artDive is the biggest art event in Kyoto since 2009. The event is for young and energetic creators who want to exhibit/sell/present their works in any genre, and also fans for those arts.
Expanding an exhibition hall to double, about 500 artists exhibit their works, which is the largest ever.
artDive must target customers between in the 20s and 30s. This is one of the reasons why we decided to exhibit there.
Details
Dates
2013/Oct/26-27th
Time
11am – 5pm
Fee
Free
Place
Miyako Messe(the 3rd exhibition hall)
9-1,Okazaki Seisyoji-cho,Sakyo-ku,Kyoto-shi,606-8343

*Higashiyama station(Subway Tozai Line)
about 8minutes on foot
Miyako Messe is next to the Heian shrine
What makes us participate in artDive?
One day, the craftsman who paints our designs, asked us "do you sell your products only online?". After that, we consider other selling methods besides.
We've been looking up craft events which are very popular in Japan. And we noticed that there were a lot of craft events in any season.
This "artDive" is held at Miyako Messe which is very close to our workplace so we decided to join it.

Control sales quantities
As you may know, our products are made only by hand.
It's not possible to be mass-produced them so that we need you to wait for a couple months to make if we don't have any stock then. If our craftsmen have other works to do a lot, it might take longer.
But we don't need to get worried about a due date as we can control how many products we sell for these craft events.
Talk to you
This is something the craftsman told me.
He told me that he also displayed his products at exhibitions or events every year.
I asked him what's the best thing to him through the experiences. He answered.
I can talk to each customer to his/her face and can ask them what they think of my products. That's really useful to improve or to make new products next".
Yes, exactly.
Everyone knows it's very easy to sell or buy stuff online as long as you have the internet. Meanwhile, the opportunity to talk to you directly is less than when we sell stuff at the event.
We came to the conclusion that talking to your face is an advantage. It's because we can talk to you and also you can touch products directly then ask what you are thinking of.
Simply, we can enjoy it!
500 exhibition booths have pretty unique arts or products. It must be enjoyable to see them and talk to seller and buyers.
To be honest, I'm looking forward to it the most.
Feel free to come and visit us!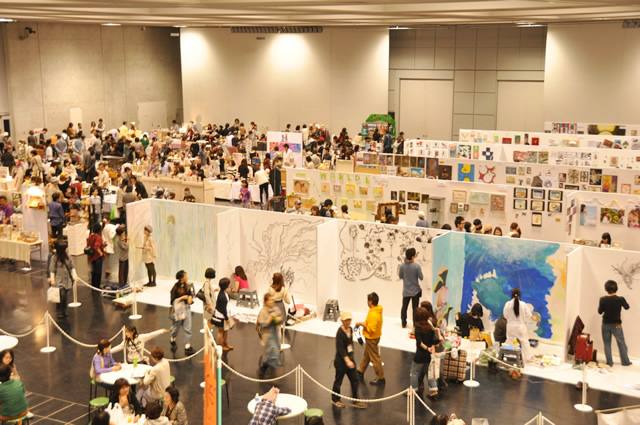 zen hand drawing displays 26th and 27th.
If you
live around Kyoto
are coming to Kyoto to see autumnal leaves
want to see zen hand drawing's works
have time
read this post
, come and join us! It's a free event!
You can see very unique items.
zen hand drawing might have a surprise for ya!